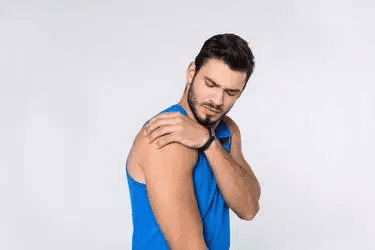 Shoulder Injuries
Shoulder is the most mobile joint in the human body and chances of injury in sports or activity are very common. If you had pain in your shoulder which is troubling your sleep then consult your local doctor as it may be a muscle or ligament tear. If the pain does not subside in 4 weeks' time with medicine and physiotherapy then you may need a further detailed examination by your shoulder specialist like an MRI scan to rule out the severity of the injury and later on a laser or keyhole minimally invasive surgery to repair the tear. In chronic cases due to the arthritis changes in the shoulder joint which can be confirmed by a plain x-ray, you may need a total shoulder replacement surgery.
In a few cases, the shoulder joint becomes stiff or frozen, and the normal range of movements decreases altering the daily activities of life. In such cases, your doctor prescribes a few medicines, steroid injection inside the joint, and a few sessions of physiotherapy depending on the severity of the disease.
Surgery & Recovery
In Total Shoulder Replacement, all or part of the shoulder joint is replaced by a prosthetic implant to relieve severe arthritis pain or fix severe physical joint damage. Although shoulder joint replacement is less common in India as compared to knee or hip replacement, it is just as successful in relieving joint pain. When you get admitted for the surgery we carry out all the pre-surgery tests to evaluate your fitness for surgery. The surgery for each shoulder is finished in 120 minutes.
Doctors will give you several doses of antibiotics to prevent infection. Most patients are able to eat solid food and get out of bed the day after surgery. You will most likely be able to go home 2-3 days after the surgery. After surgery, you will feel some pain, but your surgeon and nurses will provide medication to make you feel as comfortable as possible.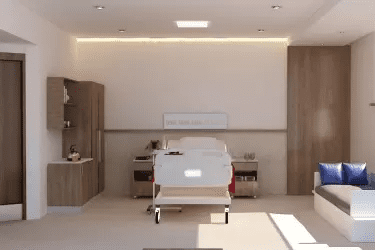 Our Doctors
There are many conditions which may need a shoulder replacement surgery like Osteoarthritis ( Degenerative Joint Disease ), Rheumatoid arthritis, Rotator Cuff Tear Arthropathy, Frozen Shoulder, and Traumatic injury to shoulder joint. Shoulder Joint Surgery at Vardhman Hospital is done by a team of Orthopaedic Surgeons led by world-renowned Dr. Mukesh Jain. and Dr. Anubhav Jain.
Dr. Mukesh Jain is considered one of the best shoulder replacement surgeons in India with more than 30 years of experience and has done several thousand of these surgeries successfully. For shoulder arthroscopic repair Dr. J Maheshwari is our leading sports injury expert. Our team of physiotherapists makes sure that you get the best post-operative rehab.
Cost and Facilitation
The cost of Single Total Shoulder Replacement Surgery is USD 7000 while the cost for Shoulder Laser or keyhole Surgery commonly called arthroscopy is USD 4500. This package includes all the hospitalization expenses, pre-surgery consultations, and investigations, post-surgery physiotherapy for 10 days. The package also includes Delhi airport pickup and transfer to Muzaffarnagar by our representative and also drops at the airport in a luxury car at the time of departure. For international patients, we provide complimentary services of translators, meals for one attendant during the stay at the hospital, currency exchange, and visa assistance.
Indian patients would not require many of these services and therefore the package would depend on what all services are to be given to each patient.