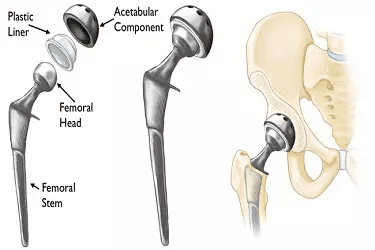 Total Knee Replacement
Total knee replacement is one of the most successful procedures in orthopedics. In the vast majority of cases, it enables people to live an active and pain-free life. Even though it has a high rate of success the knee replacement surgery can fail due to various reasons. This may lead to a swollen and painful knee. It may also feel stiff or unstable, making it difficult to perform everyday activities.
If your knee replacement fails, your doctor may recommend that you have a second surgery called revision total knee replacement. In this procedure, your doctor removes some or all of the parts of the original prosthesis and replaces them with new ones.
Surgery & Recovery
During primary total knee replacement, the knee joint is replaced with an implant, or prosthesis, made of metal and plastic components. Although most total knee replacements are very successful, over time problems such as implant wear and loosening may require a revision procedure to replace the original components.
There are different types of revision surgery. In some cases, only one implant or component of the prosthesis has to be revised. Other times, all three components—femoral, tibial, and patellar—need to remove or replaced and the bone around the knee needs to be rebuilt with augments (metal pieces that substitute for missing bone) or bone graft.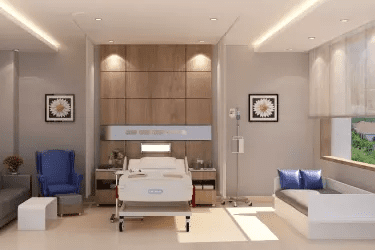 Our Doctors
Although both procedures have the same goal of relieving the pain and improve function but revision surgery is different than primary total knee replacement. It is a longer, more complex procedure that requires extensive planning, and specialized implants and tools to achieve a good result.
Revision Knee or Hip Replacement Surgery at Vardhman Hospital is done by a team of Orthopaedic Surgeons led by world-renowned Dr. Mukesh Jain. and Dr. Anubhav Jain. Dr. Mukesh Jain is considered as one of the best Knee or Hip revision replacement surgeon in India with more than 30 years of experience and has done several thousand of these surgeries successfully.
Cost and Facilitation
Because your mobility will be limited after surgery, you will need help for several weeks with such tasks as cooking, shopping, bathing, and doing laundry if you live alone. The cost of Single Total Knee Replacement Surgery is USD 4000 while the cost for both the knees is USD 7500. This package includes all the hospitalization expenses, pre-surgery consultations, and investigations, post-surgery physiotherapy for 10 days. Indian patients would not require many of these services and therefore the package would depend on what all services are to be given to each patient.
Your doctor's office, a social worker, or a discharge planner at the hospital can help you make advance arrangements to have someone assist you at home. Depending on your condition, you may need to stay at a nursing facility or rehabilitation center for some time after you leave the hospital. Your healthcare team can also help you arrange for a short stay in an extended care facility during your recovery if needed.