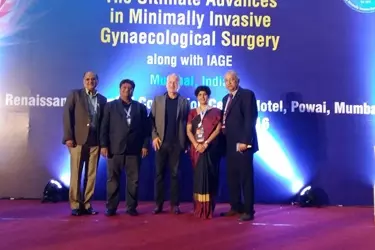 Awards
Recently during the 7th National Congress of IMAGES (Indian Society of Minimal Access & Gynaecological Endoscopic Urogynaecological Surgery) held at Kochi, India on 27th, 28th Nov'2009, Dr Nutan Jain was awarded the "MASTERS AWARD" for her pioneering efforts in the field of Laparoscopic Surgery. Dr Jain is an endoscopic surgeon of world repute and is in private practice in Muzaffarnagar, a small city of northern India, close to New Delhi.
Uttar Pradesh Ratan Award
Dr. Mukesh Jain in 2002 achieved the rare distinction of the UP Ratan Trophy from the Governor of Uttar Pradesh for his contribution to the field of medicine and surgery in the state of Uttar Pradesh. In the last 30 years, Dr. Mukesh Jain has been able to put Uttar Pradesh in general and Muzaffarnagar in particular on the health map of India. Patients from all parts of the country travel to Muzaffarnagar for Orthopaedic ailments to get world-class treatment at the hands of Dr. Mukesh Jain at the Vardhman Hospital.