There is little which I can write about Dr. Nutan Jain MD which people don't already know. She is a wonderful human being and generous, soft-spoken, and humble. One would have difficulty in guessing that this gentle soul is an accomplished Minimally Invasive Gynae Surgeon who has done more in her young life than most Gynaecologists around the world. Apart from being a phenomenal mother and wife she has been able to build a state of the art medical facility where she performs her innovative surgery and looks after the patients. She has traveled around the world to learn and fine-tune her skills.
Dr. Radha Syed
MD, FACOG, New York, US
It has been a pleasure knowing Dr. Nutan Jain as an international leader in Minimally Invasive Laparoscopic Surgery for more than a decade. She is an innovator, leader, and educator who has worked tirelessly to bring the latest surgical techniques to specifically Asia as well as the rest of the world. Her boundless energy has allowed her to edit and publish numerous books on endoscopy as well as countless state-of-the-art scientific publications. She has served the laparoscopic academic arena well and is considered a worldwide expert and authority in minimally invasive endoscopic gynaecologic surgery. It is a privilege to have known her personally.
Dr. John R Miklos
Director – Urogynecology Atlanta Urogynecology Association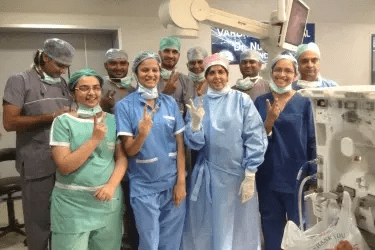 Surgeons are trained and not born. So a good mentor is necessary to give you the right direction for making things possible. I feel highly blessed that I trained in endoscopic surgery under the guidance of Dr. Nutan Jain – the director of Vardhman Trauma and Laparoscopy Centre, Muzaffarnagar. She is technically adept and a great combination of intelligence, professionalism, creativity, perseverance, and innovation. It was a great experience working under her. Her hospital `Vardhman' is highly equipped with all advanced modalities in endoscopy. Her team and subordinates are highly diligent, co-operative, and have good expertise. They helped in developing my skills in the field of endoscopic surgery.
Dr Anjali Gupta
MBBS, MD(Obs & Gyn)
Vardhman Hospital at Muzaffarnagar and Dr. Mukesh Jain are known all over the country as the top destination for knee replacement surgery for the last 30 years. For many treatments patients from all over the country travel to Delhi or Mumbai but for knee replacement surgery patients come to Muzaffarnagar from these cities. No hospital in India has better-operating facilities than Vardhman Hospital. Operation Theatres at Vardhman Hospital are close to 1000 sq ft in the area as compared to 450 ft at most of the other hospitals in the country. Bigger operation theatres mean that everything is systematic at Vardhman Hospital and all the equipment like Computer Navigation, C-Arm, Arthroscope, etc can be used during the surgery.