Hysteroscopy
Lot of female patients suffer from heavy menstrual bleeding or post menopausal bleeding. Such cases cannot be ignored and the cause of bleeding has to be found out.
Hysteroscopy is a procedure that allows your doctor to look inside your uterus in order to diagnose and treat causes of abnormal bleeding. Hysteroscope is a thin tube with LED light on top of it that is inserted into the vagina to examine the cervix and inside of the uterus. Hysteroscopy can be either diagnostic or operative.
Diagnostic hysteroscopy is used to diagnose problems of the uterus. Diagnostic hysteroscopy is also used to confirm results of other tests, such as hysterosalpingography (HSG).
Operative hysteroscopy is used to correct an abnormal condition that has been detected during a diagnostic hysteroscopy. During operative hysteroscopy, small instruments used to correct the condition are inserted through the hysteroscope.
Operative Hysteroscopy
Your doctor may perform hysteroscopy to correct the following uterine conditions:
Polyps and fibroids: Hysteroscopy is used to remove these non-cancerous growths found in the uterus.
Adhesions: Also known as Asherman's Syndrome, uterine adhesions are bands of scar tissue that can form in the uterus and may lead to changes in menstrual flow as well as infertility. Hysteroscopy can help your doctor locate and remove the adhesions.
Septums: Hysteroscopy can help determine whether you have a uterine septum, a malformation (defect) of the uterus that is present from birth.
Abnormal bleeding: Hysteroscopy can help identify the cause of heavy or lengthy menstrual flow, as well as bleeding between periods or after menopause. Endometrial ablation is one procedure in which the hysteroscope, along with other instruments, is used to destroy the uterine lining in order to treat some causes of heavy bleeding.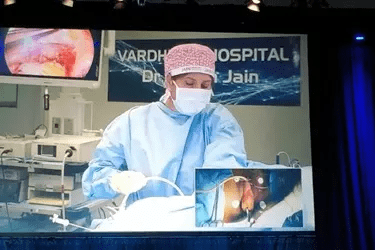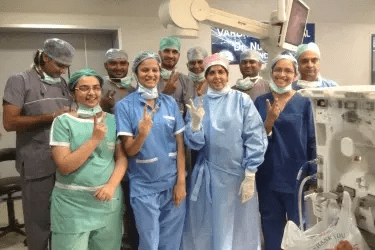 Our Doctors
The team of gynaecologists is led by Dr Nutan Jain who is the head of the department at Vardhman Hospital. She is an internationally acclaimed gynaecologist with more than 30 years experience. She is a trainer in laparoscopic surgery and has numerous journals published in her name.
Dr Jain is ably supported by her team that includes Dr Vandan align="justify" a Jain, Dr Sangeeta Sharma and Dr Aruna Arya. When it comes to laparoscopic surgery Dr Nutan Jain and Dr Vandana Jain are at the forefront and have very high success rates in operating upon patients with various gynaecological ailments like ovarian cysts, uterine fibroids etc.
Dr Nutan Jain gets patients not only from all over the country but also from various parts of the world especially middle east and Africa.
Recovery And Cost
For diagnostic hysteroscopy the patient is kept at the hospital for a few hours. No incision is given as the hysteroscope enters the uterus through the vagina. For operative hysteroscopy, the patient is sometimes kept overnight in the hospital. The patient can resume normal work from the next and no bed rest is required even in operative hysteroscopy for most of the patients.
The cost of diagnostic hysteroscopy at Vardhman Hospital is Rs. 8000 while the cost of operative hysteroscopy ranges between INR 15000-25000 which includes the gynaecologist fee, anaesthetist fee, operation theatre charges, medicines and consumables, room rent and patient diet.