Hysterectomy Surgery
Hysterectomy is done to remove the uterus only or uterus along with ovaries and fallopian tubes. If the uterus is removed along with the fallopian tubes and ovaries then the surgery is called a radical hysterectomy. Dr. Nutan Jain and Dr. Vandana Jain at Vardhman hospital, Muzaffarnagar, Uttar Pradesh may resort to hysterectomy when they have taken into account other measures or modes of treatment. Hysterectomy is the best line of treatment if a woman is diagnosed with cancer of the uterus, ovaries, or cervix, untreated severe endometriosis, long-term vaginal bleeding, prolapsed uterus, very large uterine fibroid, or adenomyosis.
Hysterectomy can either be done through the traditional open method or laparoscopic technique. Dr. Nutan and Dr. Vandana Jain are experienced in both the techniques for hysterectomy. However, the most advanced and best method is Laparoscope Assisted Vaginal Hysterectomy also called LAVH. The surgery is done through a laparoscope and leads to lesser blood loss and faster recovery. The patient goes home in 2 days' time. Dr. Nutan Jain is a pioneer of LAVH in Muzaffarnagar, Uttar Pradesh, India and has one of the best success rates in India.
Surgery & Recovery
Hysterectomy is done through laparoscopic or open method. The patient is admitted either a day before or on the day of surgery. It is in the best interest of the patient to get admitted a day before so that the part preparation and other pre-operative preparations are done as per the international protocols.
The surgery is done under general anaesthesia and takes about 90 to 120 minutes. Post-surgery the tissue removed is sent for histopathological evaluation i.e biopsy test to rule out any chance of cancer. In case the tissue turns out to be cancerous then a further course of treatment is planned by the medical oncologist. If it is non-cancerous then you don't need any further treatment and can lead a normal life.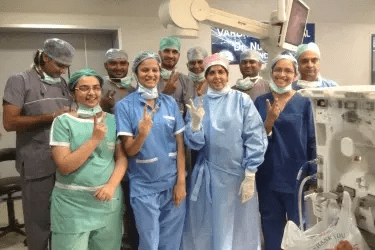 Our Doctors
The team of gynaecologists is led by Dr Nutan Jain who is the head of the department at Vardhman Hospital, Muzaffarnagar, Uttar Pradesh (India). She is an internationally acclaimed gynaecologist with more than 30 years experience. She is a trainer in laparoscopic surgery and has numerous journals published in her name. Dr Jain is ably supported by her team that includes Dr Vandana Jain, Dr Sangeeta Sharma and Dr Aruna Arya. When it comes to laparoscopic surgery Dr Nutan Jain and Dr Vandana Jain are at the forefront and have the best success rates in operating upon patients with various gynaecological ailments like ovarian cysts, uterine fibroid etc.
Dr Nutan Jain gets patients not only from the all over the country but also from various parts of the world especially the Middle East and Africa.
Cost and Facilitation
The cost of an open hysterectomy is USD 2500 while the cost of LAVH is USD 3800. This package includes all the hospitalization expenses, pre-surgery consultations, and investigations, one post-surgery follow-up. The package also includes Delhi airport pickup and transfer to Muzaffarnagar by our representative and also drop at the airport in a luxury car at the time of departure. For international patients, we provide complementary services of Translator, meals for one attendant during the stay at the hospital, currency exchange, and visa assistance.
Indian patients would not require many of these services and therefore the package would depend on what all services are to be given to each patient.