Abortion Or MTP
MTP (Medical Termination of Pregnancy) is an elective procedure whereby any pregnant woman can decide to terminate her pregnancy by her wish. This can be done upto 12 weeks of the pregnancy wherever the woman is not inclined to become a mother at that particular time. Beyond 12 weeks the pregnancy can be aborted on the wish of the pregnant woman at a centre which has the requisite permissions. Beyond 20 weeks the termination of pregnancy is not permitted under the PNDT Act.
Abortion is something which happens on its own where the pregnancy is not sustained due to any reason and miscarriage takes place. In such cases the patient must see a gynaecologist as the products of conception might not be cleared completely and some procedure like D&C might have to be done by the gynaecologist. This is important so that there are no problems in future pregnancy.
Surgery & Recovery
While MTP can be done as an Outpatient procedure, D&C requires hospitalization for one day. Not many tests are required beforehand and the procedure itself takes around 15-20 minutes unless the procedure is to be done under the guidance of ultrasound. The patient can resume normal work within 48 hours and there is not bed rest required for this procedure.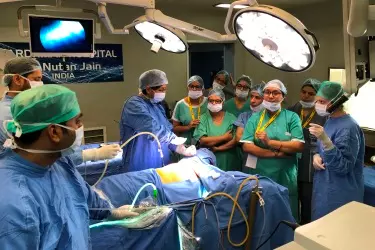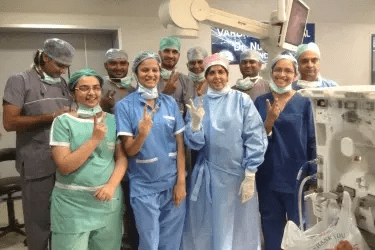 Our Doctors
MTP or D&C is done by any one of our gynaecologists which includes Dr Nutan Jain, Dr Vandana Jain, Dr Sangeeta Sharma and Dr Aruna Arya. This is not a major procedure and can be done by any one of the above gynaecologists. A lot of patients go to unqualified doctors due to the shame associated with MTP or Abortion specially when the girl is not married.
Fertility and the capability to become pregnant is a very important part of any female's life and should not be compromised by getting abortion done by an unqualified doctor. At Vardhman hospital we understand the importance of a patient's right to privacy and therefore the procedure is done by following all the rules and regulations but the patient's privacy is protected.
Cost and Facilitation
The cost of Consultation and Medicines in case of MTP is around Rs. 3000-3500 while D&C costs 20-25 thousand rupees which includes the cost of the procedure, room rent for one day, operation theatre charges, anaesthetist fee, medicines and consumables. Any complication is not a part of the package and is charged extra.