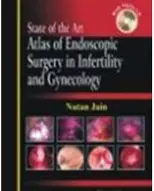 Contributions to Journals

Paper published in the Internationally Renowned Medical Journal NCBI - Jain point: A new safe portal for laparoscopic entry in previous surgery cases in Jan-Mar 2016 Issue.

Article on "LAVH: Minimaly Invasive Key Hole Surgery" in Asian Journal of Obs & Gynae Vol 2 No 3, June-August, 1998.

Article On "LAVH: A Novel Minimally Invasive Surgery" , in Journal Of U.P. chapter Of Obs & Gynae, Vol 4, Feb-March, 1998.

Guest Editor IAHR Bulletin "Science Technology" Vol. 6 Number 4 & 5, Sept.-Dec. 1998 . Article on "TRANS VAGINAL HYDROLAPAROSCOPY" in the same journal.

Contributed chapters on LAVH and Laparoscopy Myomectomy in the "Book Frontiers of Human Reproduction".

Contributed chapter on Endoscopic Surgery in the C. S. Dawn Text Book of Gynaecology.

Original Contributions and Scientific Summaries on "Laparoscopic Creation of Neo-Vagina in ISGE News letter, Vol. 6, Issue, 3 Oct. 2000.